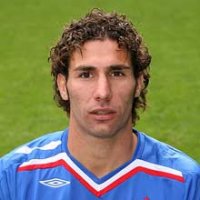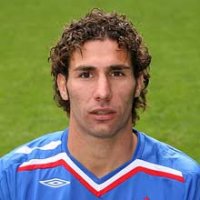 The Scottish Football Writers' Association (SFWA) élise le meilleur footballeur de la saison précédente de la Scottish Premier League.
Le prix est considéré comme l'un des plus élevés décerné en Ecosse aux côtés de la SPFA Players' Player of the Year.
En 1965, le premier titre a été remportée par un défenseur du Celtic : Billy McNeill.
Carlos Cuellar succède au palmarès du « meilleur joueur de la saison » au Japonais du Celtic Glasgow, Sunshuke Nakamura, qui avait remporté le titre la saison dernière. Une belle récompense pour ce joueur espagnol arrivé cet été aux Glasgow Rangers en provenance d'Osasuna. Le joueur a disputé tous les matchs de son équipe en Scottish Premier League.
– 2008 : Carlos Cuellar Rangers
– 2007 : Shunsuke Nakamura Celtic
– 2006 : Craig Gordon Heart of Midlothian
– 2005 : John Hartson Celtic
– 2004 : Jackie McNamara Celtic
– 2003 : Barry Ferguson Rangers
– 2002 : Paul Lambert Celtic
– 2001 : Henrik Larsson Celtic
– 2000 : Barry Ferguson Rangers
– 1999 : Henrik Larsson Celtic
– 1998 : Craig Burley Celtic
– 1997 : Brian Laudrup Rangers
– 1996 : Paul Gascoigne Rangers
– 1995 : Brian Laudrup Rangers
– 1994 : Mark Hateley Rangers
– 1993 : Andy Goram Rangers
– 1992 : Ally McCoist Rangers
– 1991 : Maurice Malpas Dundee United
– 1990 : Alex McLeish Aberdeen
– 1989 : Richard Gough Rangers
– 1988 : Paul McStay Celtic
– 1987 : Brian McClair Celtic
– 1986 : Sandy Jardine Heart of Midlothian
– 1985 : Hamish McAlpine Dundee United
– 1984 : Willie Miller Aberdeen
– 1983 : Charlie Nicholas Celtic
– 1982 : Paul Sturrock Dundee United
– 1981 : Alan Rough Partick Thistle
– 1980 : Gordon Strachan Aberdeen
– 1979 : Andy Ritchie Greenock Morton
– 1978 : Derek Johnstone Rangers
– 1977 : Danny McGrain Celtic
– 1976 : John Greig Rangers
– 1975 : Sandy Jardine Rangers
– 1974 : Equipe Ecosse de la Coupe du monde
– 1973 : George Connelly Celtic
– 1972 : Dave Smith Rangers
– 1971 : Martin Buchan Aberdeen
– 1970 : Pat Stanton Hibernian
– 1969 : Bobby Murdoch Celtic
– 1968 : Gordon Wallace Raith Rovers
– 1967 : Ronnie Simpson Celtic
– 1966 : John Greig Rangers
– 1965 : Billy McNeill Celtic
– Celtic : 15 (1965, 1967, 1969, 1973, 1977, 1983, 1987, 1988, 1998, 1999, 2001, 2002, 2004, 2005, 2007)
– Rangers : 15(1966, 1972, 1975, 1976, 1978, 1989, 1992, 1993, 1994, 1995, 1996, 1997, 2000, 2003, 2008)
– Aberdeen : 4 (1971, 1980, 1984, 1990)
– Dundee United : 3 (1982, 1985, 1991)
– Heart of Midlothian : 2 (1986, 2006)
– Partick Thistle : 1 (1981)
– Greenock Morton : 1 (1979)
– Hibernian : 1 (1980)
– Raith Rovers : 1 (1968)
Nombre de victoires par nation
– Ecosse : 35 (1965, 1966, 1967, 1968, 1969, 1970, 1971, 1972, 1973, 1974, 1975, 1976, 1977, 1978, 1979, 1980, 1981, 1982, 1983, 1984, 1985, 1986, 1987, 1988, 1989, 1990, 1991, 1992, 1993, 1998, 2000, 2002, 2003, 2004, 2006)
– Suède : 2 (1999, 2001)
– Danemark : 2 (1995, 1997)
– Angleterre : 2 (1994, 1996)
– Japon : 1 (2007)
– Pays de Galles : 1 (2005)
– Espagne : 1 (2008)